Product Description
If you are looking to increase packaging line speed, reduce risk for line workers or improve filling accuracy, our automatic filling and packaging systems and custom filling lines are guaranteed to relieve common packaging line problems and provide the fill accuracy that you are looking for. For some dangerous chemical products, if use traditional manual filling system, the filling process can be dangerous due to hazardous fumes and chemical handling.
While by using our custom integrated solution will increase your throughput, reduce risk and save you money. Our A51 automatic filling and packaging machine are developed for customer`s characteristics of large production capacity and high degree of automation. They are suitable for liquid metering filling of 15L-50L packaging containers, which meets the filling of 2-12 stations. It realizes the functions of automatic debunging, automatic nitrogen charging, automatic positioning, automatic filling, automatic unscrambling, automatic cap feeding, automatic inner cap sealing and automatic bunging. Self-diagnosis and self-detecting, remote operation and maintenance, compound explosion-proof.
With high accuracy, stable quality, high safety and environmental performance.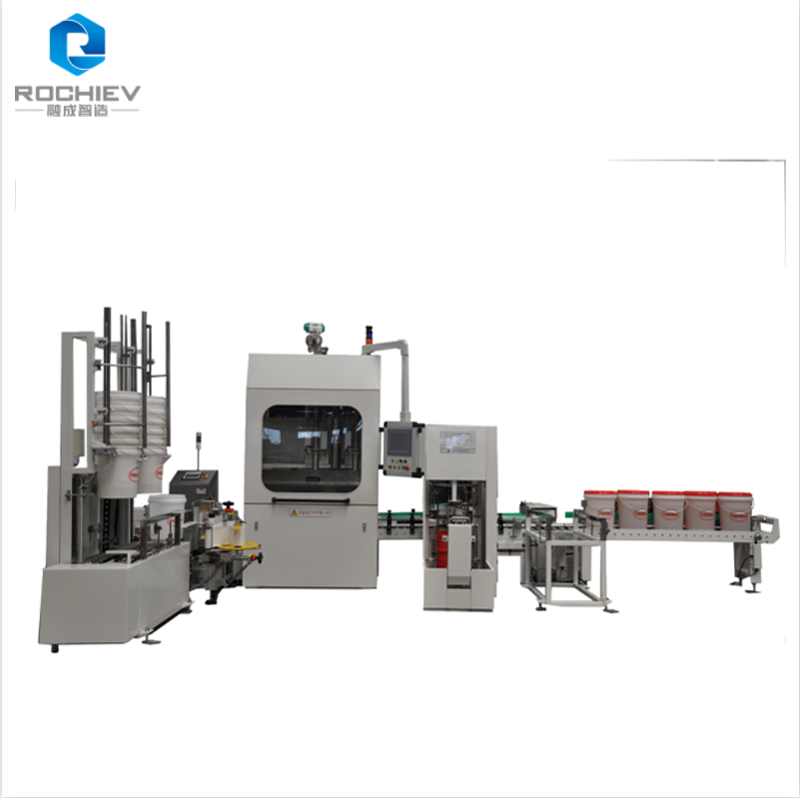 TECHNICAL CHARACTERISTICS:
Suitable Containers: 15L-50L Cans or Pails
Bunghole Positioning Mode: Mechanical positioning
Weighing Range: 2kg-100kg
Filling Capacity: 80-1200 Cans/Hour (2-12 stations)
Filling Error: ±0.04kg
We would be glad to develop individual applications for your requirements.