Product Description
The automatic wrapping machines with turntable are developed and built for wrapping pallets of products with stretch film in a complete automatic mode, without operator.
Our automatic vertical stretch wrapping machine is conceived to be integrated in automatic packaging lines, where products are palletised and transported towards the wrapping machine (normally placed at the end of the line), then wrapped with stretch film as per the selected program, and finally transported to the very end of the line where they will be taken for loading a truck.
Our automatic pallet wrapper will provide a safe method of unitizing the load consistently, while providing your pallet load with a professional look that your customers demand. Automatic pallet wrapping machine is used for wrapping the bulk cargo stacked on pallet. The cargos after wrapping are more stable, elegant and neat; it plays a good role in waterproof, dustproof, anti-theft, anti-scatter, and convenient for cargos sending in and out. We`ll help you find the right stretch wrapper for your unique applications.
Steel structure frame to ensure stable operation of the machine; with PLC microcomputer control; setting the number of winding turns; local reinforcement, automatic reset; with manual/automatic working mode for selection.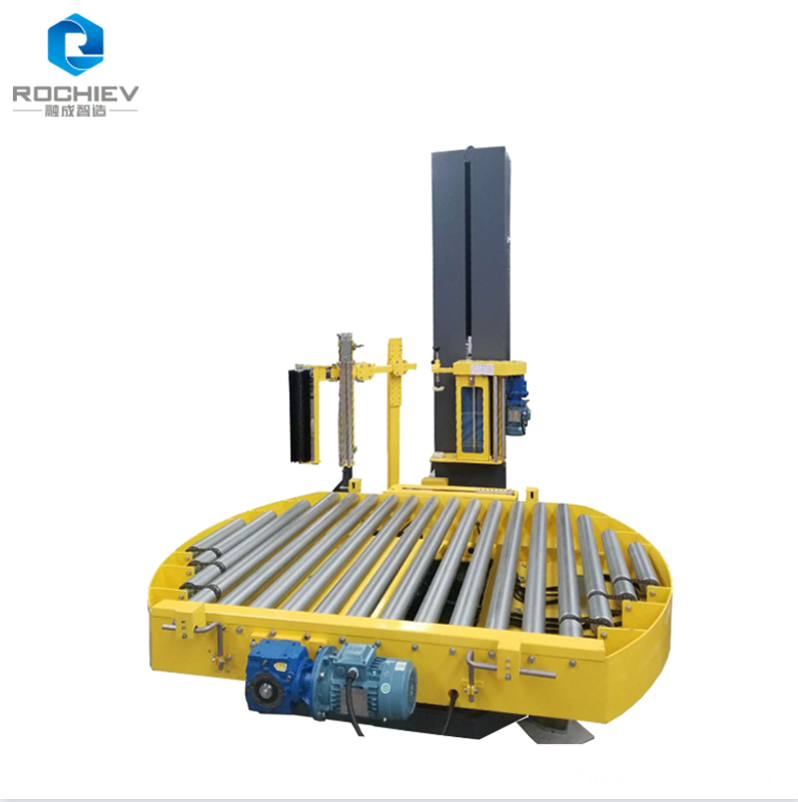 TECHNICAL CHARACTERISTICS
Capacity :35 Pallets/Hour
Film Frame Lifting Speed: 0-3M/Min
Packaging Specification: L1200×W1200×H1400
Maximum Packaging Height(mm):2000/2200/2500
Diameter of Rctary Tabel: 1500/1650/1800, height of rotary table 110
LLDPE Film: Width 500mm
Thickness 20.25μm
Max. outside diameter:240mm
Inner bore diameter of paper core:76mm
Length of paper core:520mm